Although the presence of Greek civilisation had been found in Jordan previously, Alexander the Great's conquest of the Middle East and Central Asia firmly consolidated the influence of Hellenistic culture. Qasr Al-Abd is perhaps the best example of Hellenistic palaces in the Middle East, was built between 182 and 175 BC, on an elevated platform in the middle of an artificial lake. To reach Qasr Al-Abd one had to cross a dam and access through an imposing gate. The heavily decorated two-storey stone structure (measuring about 40 metres by 20 metres, and 13 metres high) was built from some of the largest single blocks of any building in the Middle East, with the largest block measuring seven by three metres.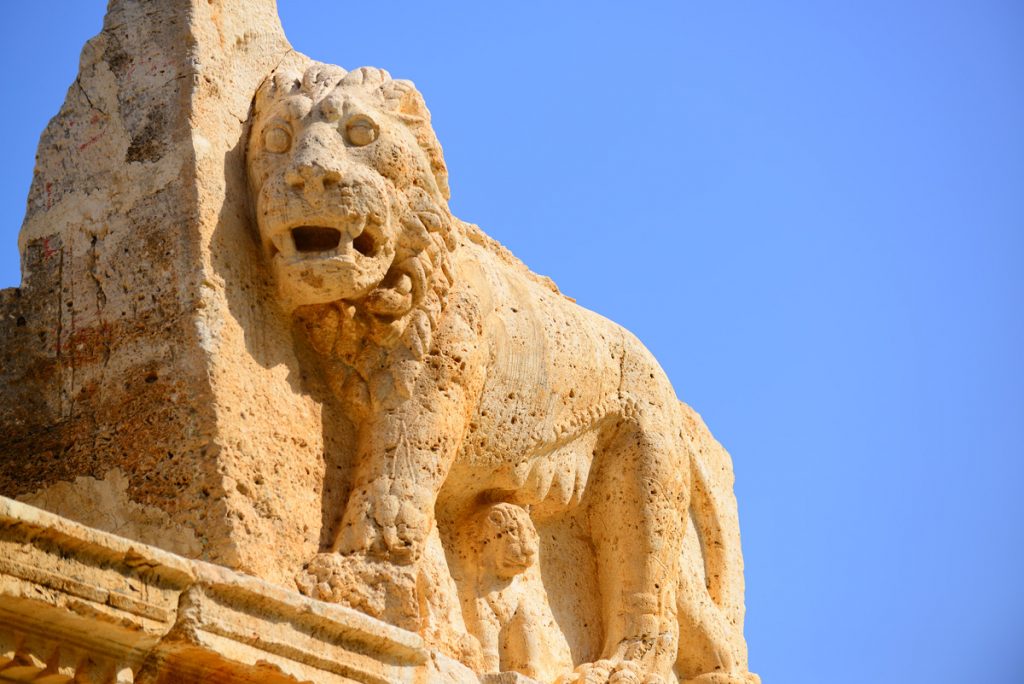 Archaeologists have established that Qasr Al-Abd once stood in a much larger estate, which was originally surrounded by a wall and included a park with trees and shrubs.
The entrance to the building is a small courtyard fronted by two columns. Two additional columns, engaged on either side, complete the entrance facade. A mirror-image facade on the south side was added for reasons of symmetry but did not serve as an entrance.
At the base of each long wall is a fountain, carved in the shape of a leopard with a raised paw. The mottling of the stone seems to mimic the leopard's spotted coat, although this may be an artefact of repair. The corners of the upper facade are decorated with relief carvings of lionesses suckling their cubs, such as the one seen here.
A large stone olive press has been found on the site, suggesting the estate was partially self-sufficient in agricultural produce. Much of the estate now stands beneath the village of Iraq al-Amir.
The early death of the building owner Hyrcanus, who committed suicide in 175 BC, left the palace unfinished. Later on, the structure collapsed during the devastating Galilee earthquake of 363 AD, so a great part of the reliefs and decoration elements remained buried for centuries under the large stone blocks.
In the last decades, the 38 x 19 m large building was partially reconstructed. The ground floor of the original two-story building with its two portals, the remains of magnificent life-size lion reliefs flanking the building corners, leopard fountains on each lateral wall, several capitals and further construction and decorative elements can be admired on-site.